Kopster Hotel & Résidence Paris Ouest Colombes opening
AVRIL 2023
The Lifestyle 4* hotel in Paris Ouest Colombes, an ideal location.

After opening its first hotel in Lyon, the Kopster Hotel Lyon Groupama Stadium, the Kopster family has decided to expand. The latest addition to the Kopster Hotels collection is the Kopster Hotel & Résidence Paris Ouest Colombes in the west of Paris. Not far from our beloved capital, this up-and-coming district in the Hauts-de-Seine is full of promise.
Located just 10 minutes from the Paris la Défense business district, 15 minutes from Gare Saint Lazare, 30 minutes from Gare de Lyon and 40 minutes from Paris Charles de Gaulle airport, Kopster Hotel Colombes is easily accessible via the A86 motorway.
Lifestyle rooms and apartments in Paris Ouest Colombes

In a warm and trendy setting, this establishment is the ideal place to relax with family, friends or during your business trip.
Take a seat in one of the 251 rooms and apartments with their unique lifestyle and original decor. On the hotel side, there are 134 rooms with a minimum surface area of 23sqm and all the amenities you need for your comfort. On the residence side, 117 Lifestyle apartments of 35sqm minimum are available, divided into T1 (studio) and T2 (bedrooms + living room). Kitchenette, private bathroom and comfortable bedding are all available.
A rooftop restaurant and bar in Paris Ouest Colombes

Share moments with family, friends or colleagues in our rooftop restaurant for a delicious breakfast, lunch or dinner featuring fresh produce. Are you coming in large numbers? The restaurant has 90 seats to delight your taste buds, with a bonus view of Paris and its emblematic monuments, including the Eiffel Tower.
The bar area makes a real impact and promises an unforgettable moment of sharing. For a signature cocktail, head to the Instagrammable place par excellence. Its intimate atmosphere and contemporary wood decor invite you to unwind.
Every Sunday, from 12pm to 3pm, we offer an all-you-can-eat gourmet brunch concocted by our head chef and his brigade. On the menu: smoked salmon, shrimps, cheese, salad bar, charcuterie, hot dishes, vegetarian dishes, fruit, desserts to share… Sweet and savoury gourmet buffets are also available, as well as hot drinks, fruit juices… To satisfy every taste, even the youngest, the Kopster Kids Club opens its doors during brunch hours. Children can take advantage of the various activities on offer (board games, coloring…) and a qualified activity leader will be on hand to look after their well-being.
The Kopster Hotel & Residence offers 700m² of modular space divided into 10 fully-equipped rooms for your meetings, seminars, conventions or team-building events. The reception areas are designed to meet all your needs, whether for a seminar (capacity up to 250 people with 5m high ceilings) or a more intimate business meeting.
For more information about your next event at Le Kopster, contact our team at events.poc@kopsterhotels.com.

Are you still not following us?
*** On Instagram ***
*** On Facebook ***
*** On LinkedIn ***
*** On Pinterest ***
*** On YouTube ***

Marriott Lyon Cité Internationale hotel fight against gender inequality in the workplace women-men
2023, MARCH
The Gender Equality Index allows companies to measure their level of gender equality in the workplace based on specific indicators, giving them a score out of 100 points.
In 2022, the professional equality index for the Marriott Lyon Cité Internationale hotel is 85 points out of 100. The hotel intends to continue its actions in order to reduce the professional inequality between women and men as much as possible.
As a reminder, this is based on five criteria: pay gap, pay rise, promotion, the percentage of female employees receiving a pay rise after the birth of a child and the representation of women in the ten highest paid positions.
Are you still not following us?
*** On Instagram ***
*** On Facebook ***
*** On LinkedIn ***
*** On Pinterest ***
*** On YouTube ***

LE CHATEAU DES RAVATYS, WINE ESTATE, BECOMES A DOUBLE GOLD MEDALIST.
OCTOBER 2022
The Chateau des Ravatys estate, acquired in 2020 by Jean-Claude Lavorel, was a great opportunity to launch himself into a new world, far from the hotel business: the wine sector.
A lover of challenges, his ambition to make this estate a recognised place was quickly realised.
The know-how and knowledge of Aurélie De Vermont, the estate's oenologist and operations manager, enabled Château des Ravatys to win a gold medal for its wine "Beaujolais Brouilly Les Marquisats" at the 2022 CWSA (the most influential award in the field of wines and spirits).
The efforts of our teams have paid off:
Whether it is in the regulation of the harvests, which aims to obtain the most eco-responsible and qualitative harvests possible, or the techniques of vatting in tuns or oak barrels using gravity to the maximum.
Thanks to this, the quality and reputation of our wines triumph in the Beaujolais region. We would like to thank all the people who have worked and collaborated to achieve this result!
We make it a point of honour that our medal-winning wines reflect our commitment and values. As a result, our estate is certified High Environmental Value (HVE) level 3 and our vineyard is in the process of being converted to organic farming.
Are you still not following us?
*** On Instagram ***
*** On Facebook ***
*** On LinkedIn ***
*** On Pinterest ***
*** On YouTube ***

LE SAINT-EXUPERY, THE NEW FLAGSHIP OF LES BATEAUX LYONNAIS
OCTOBER 2022
Since 2017, Les Bateaux Lyonnais river company, formerly known as Lyon City Boat, has been taking Lyon residents and tourists on exceptional cruises on the Rhône and the Saône to discover the history of Lyon.

With a fleet of 7 boats: the Hermès and Hermès II restaurant boats, the electrically powered boats Navilys I and Navilys II, the Elle & Lui launches and the latest addition, the Saint Exupéry, the company offers a complete range of services to meet all needs.
– Enjoy a unique and gourmet experience by inviting your friends and family on board for a restaurant cruise
– Enjoy an exceptional panorama of Lyon's architecture on board one of our walking cruises, to discover the city from a completely different angle
– Choose the unforgettable for your next event! Whether it is professional or personal, our team guarantees you a 100% tailor-made experience according to your wishes
This is the promise of the Saint Exupéry: to host a unique and original event, far from the norm, an event made for you. Built in 2018 in the Netherlands, and now moored at 13bis quai Rambaud, this new boat will give a new dimension to your events.
Its large windows offer not only a bright space but also an unbeatable view of the city of Lyon, which complements its clean lines and modern design. With its 36 metres length and 7.5 metres width, this event boat can accommodate up to 80 people seated and 120 people for cocktails, whatever the occasion, all year round, in the dining room or on its large terrace with a 360° panoramic view.
So take to the sea, and sail on the Rhône or the Saône towards your dream event to the rhythm of the rivers.
Are you still not following us?
*** On Instagram ***
*** On Facebook ***
*** On LinkedIn ***
*** On Pinterest ***
*** On YouTube ***

OPENING OF THE KIDS CLUB AT LE GRAND PAVILLON CHANTILLY
AUGUST 2022
In the heart of our domain at Le Grand Pavillon Chantilly, a space dedicated to the pleasure of children (as well as the tranquillity of parents) has opened its doors. The Kids Club and Teens Club welcomes young and old to share unforgettable moments.
For both Kids (3 to 10 years old) and Teens (11 years old and up), we make sure that every member of the family has a memorable stay in our 4-star hotel in Chantilly. Welcome to the Kids Club at the Grand Pavillon Chantilly!
A soothing place where your children's curiosity will be aroused during their holiday. Between puzzles, board games, colouring, or even workshops organised by our activity leader, they won't be bored!
Located in the heart of Chantilly's nature, this space dedicated to the youngest, highlights the disconnection and relaxation aspect of the Grand Pavillon Chantilly. The pastel tones blend softness and well-being to bring a note of lightness to this lively place!

The family experience is a unique moment to enjoy! While the children are having fun in the Kids Club with the activity leader, you will now have the opportunity to take full advantage of the various activities within the hotel. Take some time for yourself and find refuge in the Sothys spa, where well-being and relaxation are the key words. Would you like to discover the surroundings of Chantilly? Nature has many surprises in store for you! Hire one of our bikes and set off to discover the flora and fauna. It's the perfect opportunity to admire all the corners of this destination!
A sudden urge to disconnect and relax with your family?
Take advantage of the Family Offer including accommodation, a second room at 50% off and unlimited access to the Kids Club! This offer is valid until Saturday 31 December 2022.
Are you still not following us?
*** On Instagram ***
*** On Facebook ***
*** On LinkedIn ***
*** On Pinterest ***
*** On YouTube ***

ONLINE SHOP CHATEAU DES RAVATYS
AUGUST 2022
Le Château des Ravatys a 36-hectare wine estate in the Beaujolais region, opens its online shop!
Discover a premium collection of AOC Brouilly and Côte de Brouilly wines. Brouilly " Les Marquisats ", Côte de Brouilly " Cuvée Mathilde ", Côte de Brouilly " Cuvée Auguste ", Côte de Brouilly " Cuvée Réserve ", Beaujolais Rosé, Beaujolais Blanc " Chassagne Montrachet " Cépage Chardonnay.
All the wines are made on the estate in accordance with tradition. From planting to bottling, the passionate teams put their know-how at the service of the wine, in a concern for quality. Between science and love of wine, Aurélie de Vermont, oenologist at Château des Ravatys, is the estate's conductor. She analyses and supervises all stages of production, from the vine to the glass.
It is thanks to the expertise of the teams that the Château des Ravatys wines have been awarded medals and distinctions by professional experts and sommeliers. At the London Competition, the Chardonnay 2021 of Château des Ravatys obtained a Gold medal and 92 points. Its Brouilly Cuvée "Les Marquisats" and Côtes de Brouilly "Cuvée Mathilde" were awarded a silver medal.
The wines also received high marks from North American critic James Suckling and Wine Enthusiast magazine:
-The Cuvée "Les Marquisats" 2020 : James Suckling 92 Points and 90 Points Wine Enthusiast
-La Cuvée Mathilde 2020 : James Suckling 91 Points and 91 Points Wine Enthusiast
-La Cuvée Auguste 2018 : James Suckling 90 Points
It is your turn to discover and taste the wines of Château des Ravatys. Make your moment a real taste experience!
To visit the Château des Ravatys online shop, click here: discover our shop.
Are you still not following us?
*** On Instagram ***
*** On Facebook ***
*** On LinkedIn ***
*** On Pinterest ***
*** On YouTube ***

LAVOREL HOTELS IMPLEMENTS AN EXCEPTIONAL ACTION PLAN TO ADDRESS THE LABOUR SHORTAGE IN THE HOTEL AND CATERING SECTOR
JUNE 2022
According to the latest estimates, between 200,000 and 300,000 seasonal jobs are still to be filled for the 2022 season. Job offers have been multiplying since the beginning of the year and few establishments are not struggling to recruit.
It is important to innovate and to remember that "hotel business" and "quality of life" are compatible. For this reason, Lavorel Hotels is doing everything possible to improve the working conditions of its teams.
A committed entrepreneur who is attached to human values, Jean-Claude Lavorel decided from the start to turn the group's DNA towards people. "From the hotel manager to the chambermaid to the head office team, each person contributes to the building.
This is why Lavorel Hotels is revolutionising its working conditions and setting up an action plan to attract new, passionate and competent employees.
First of all, pay levels were increased in April. Also, from 1 July 2022, employees working at weekends, on public holidays and during breaks will be rewarded with bonuses. Finally, a profit-sharing scheme will be introduced by the end of the year.
And despite the group's expansion, we want the family spirit to continue at the head office and in the establishments. Lavorel insists on the transparency of information in order to integrate each employee as much as possible. Although this takes place in the daily meetings between the teams, it is also easier to establish over a drink or during an activity. This is why we make it a point of honour to regularly organise convivial moments such as team building, afterworks or staff parties with the aim of bringing teams together in an informal setting conducive to exchanges.
These moments also help to strengthen the team spirit and build a relationship of trust between managers and employees. In the same vein, we offer our employees "live my life" days to discover the range of jobs on offer and to gain a better understanding of each other's daily lives. The principle is simple: two people decide by mutual agreement to exchange jobs for a day, giving them time to discover another environment, other missions, another team and to better understand each other's problems.
It is also important for us to offer a pleasant working environment: in view of the range of destinations offered by our establishments, everyone should be able to find the place that suits him or her: by the lake, in the mountains, in the heart of a dynamic city or in the middle of the vineyards… There is something for everyone. We make sure to welcome our employees in the best possible way, and to provide them with pleasant spaces: harmonious offices, equipped accommodation, rest rooms, canteen, etc.
To date, two of our establishments have been equipped this year with connected fridges filled daily with fresh and varied balanced dishes. Also, a professional reflexologist is available every Friday for 30-minute massage sessions offered during the working hours of our staff. They are free to book a moment of relaxation to disconnect for a while.
Are you still not following us?
*** On Instagram ***
*** On Facebook ***
*** On LinkedIn ***
*** On Pinterest ***
*** On YouTube ***
THE 5 STAR PALACE DE MENTHON ACTIVATES THE SUMMER MOOD

JUNE 2022
A few days ago, Le Palace de Menthon officially launched the opening of its beach restaurant! This evening was the occasion to launch the summer season, and for good reason… On the programme: arrival by boat, cocktails, planks of mignardises and live DJ music!
The 5* Palace de Menthon in Annecy has always been keen to do things in style!
In an exceptional setting, between lake and mountains, it reveals a 5-star setting in the heart of a sublime private park. It has been one of the most prestigious establishments in the region for over a century. This architectural jewel has 66 renovated rooms and suites with spectacular views of the translucent waters of Lake Annecy and the surrounding countryside. A private villa, with its feet in the water, completes the hotel's accommodation offer for a stay in complete privacy. A treasure trove of history that invites contemplation, ideal for a true moment of escape.

There's plenty for gourmets too:
The incredible panoramic view of the restaurant promises lunches bathed in light and dinners punctuated by the spectacle of the sun setting on the shores of the lake. At the table, the plates of the bistronomic restaurant are first devoured with the eyes; then light and unusual flavours awaken the taste buds.
Feel like a light lunch on the terrace by the water? The beach restaurant is for you! Enjoy a moment to yourself: sunbathing, cocktails with your feet in the water, a paddle session, a rosé pool with music in front of the sunset… You won't be able to resist the charm of this special place.
Are you still not following us?
*** On Instagram ***
*** On Facebook ***
*** On LinkedIn ***
*** On Pinterest ***
*** On YouTube ***

2022 EDITION: TOP 500 LYONNAIS BY LYON PEOPLE
MAY 2022
In this year 2022, Lyon People unveils the new edition of the Top 500 people of Lyon. An iconic guide that brings together personalities from Lyon who have left their mark on the city!
It is with great pride that we present the portrait of Jean-Claude LAVOREL, Chairman and CEO of the LAVOREL HOTELS group and Charline BRESSE, Deputy General Manager.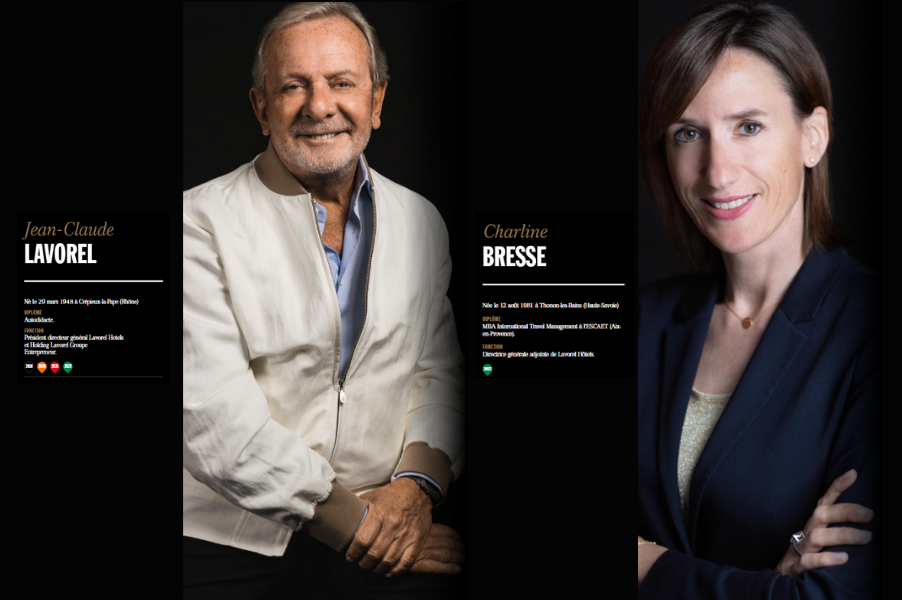 Are you still not following us?
*** On Instagram ***
*** On Facebook ***
*** On LinkedIn ***
*** On Pinterest ***
*** On YouTube ***

MARRIOTT LYON CITÉ INTERNATIONALE HOTEL SCORES 93/100 ON THE GENDER EQUALITY INDEX
APRIL 2022
This result is in line with the Avenir law of 5 September 2018 aimed at eliminating pay gaps between women and men.
Our establishment proudly displays the overall score of 93/100 in the gender equality index; a score that underlines the commitment against professional inequalities that the Marriott Hotel Lyon Cité internationale has been leading for several years.
As a reminder, this index takes into account five criteria rated out of 100 points to evaluate professional inequalities between women and men.
Are you still not following us?
*** On Instagram ***
*** On Facebook ***
*** On LinkedIn ***
*** On Pinterest ***
*** On YouTube ***